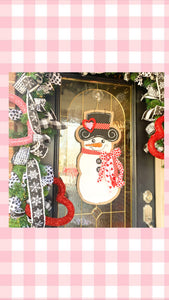 Large full body Snowgal.  Red/black  buffalo plaid ribbon.  Sparkle large snowflake on hat.  Note: exact hat decor may vary due to availability.
Weather resistant. 
Handmade & hand painted. 
Measurements: 45" long x 18" wide
DISCLAIMER: Ribbon, embellishments, & small details may vary due to availability. Each piece is handmade and hand painted therefore there are slight variations from piece to piece, no two DoorCandy pieces are exactly alike!